Published October 14, 2021
Dr. Krish Kandiah Galvanizes Churches to Action for Refugees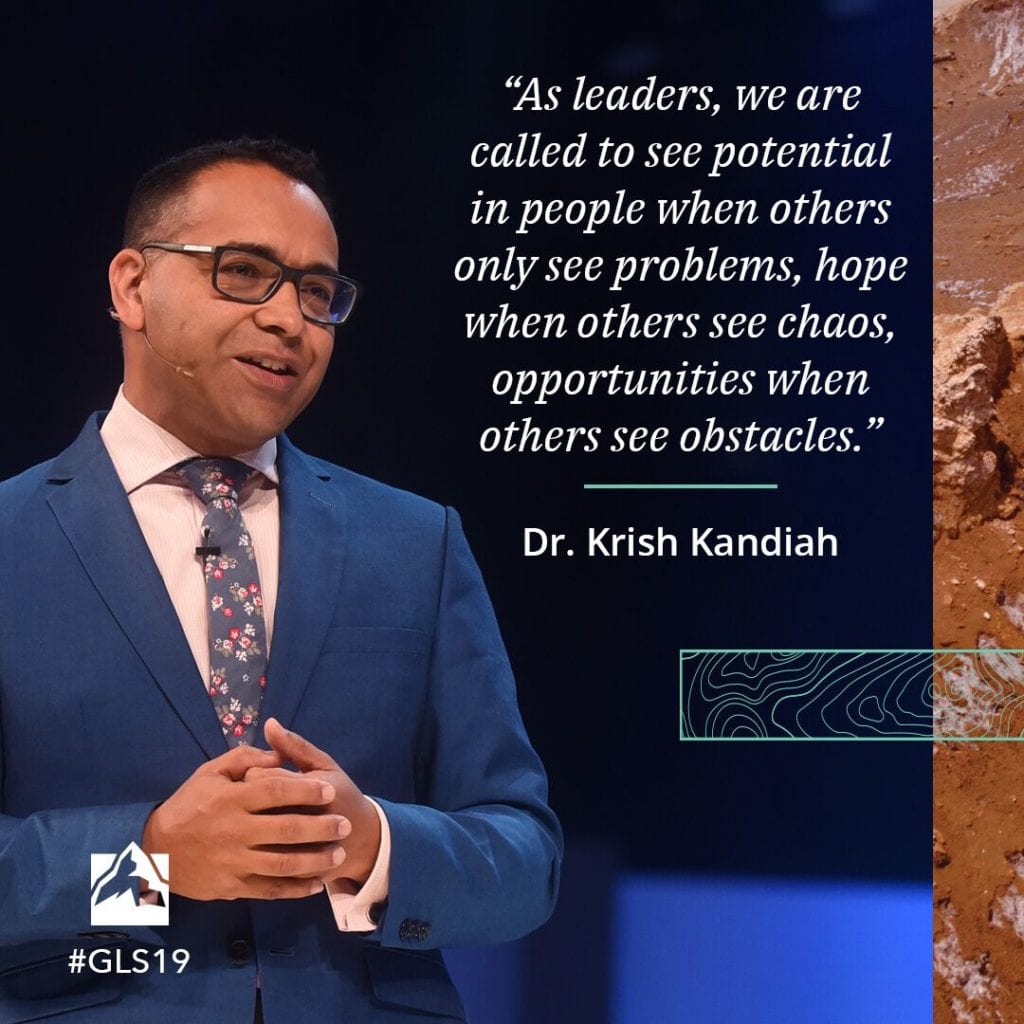 Dr. Krish Kandiah is best known by The Global Leadership Summit audience for the powerful wisdom he brought to the stage, challenging people to look at themselves and others differently in terms of compassion in leadership. In fact, several of the stories we've heard about the impact of the Summit have been a result of something they learned from Dr. Kandiah.
A dynamic leader driven by a desire to make a positive difference in the world, the Global Leadership Network continues to be moved and inspired by Dr. Krish Kandiah's impactful leadership, most recently by the way he has galvanized the Church community around serving and supporting thousands of Afghan refugees who have immigrated to the UK.
Curious about his recent endeavors and how the Global Leadership Network could support his work, our team reached out to Krish to learn more about how he's doing, how his new ministry came to be and what it looks like for the Church to be on the front lines as the hands and feet of Jesus.
At first perplexed by how one man could create a charity to serve refugees seemingly overnight, while also being a sought-after speaker, the father of six kids, a college lecturer and running another charity he founded years prior, among other things, we wondered if Krish might actually be some kind of superman! But Krish gives credit to God's perfect timing and a leap of faith decision.
What if we work with existing charities as a kind of Avengers Assemble moment where everyone brings the best they've got?
Having founded the charity, Home for Good to find loving homes for children in the care system, in recent days the English government requested his support as the chair of the Adoption and Special Guardian Leadership Board. "In December 2020, I made a really difficult decision," Krish explained. "I was offered the role as the lead advisor for the government on adoption and something called 'special guardianship', which is basically when children can't live with their mom and dad, but they can live with an aunt, uncle or grandparent. But to do that, I would have to leave the charity that I founded, Home for Good, because they do a lot of work towards the government. But I couldn't sit both sides of the table—I couldn't work for a charity that was working to the government and work with the government. That would have been a conflict of interest.
"One of the 'problems' was this position was only one day a week, so it would mean I would have to leave a full-time job to go and work one day a week with the government. I thought, what will I do with the other four days? I was really worried about it. My wife, a woman of good faith, encouraged me to take the step. So, we took that step of faith and trusted that it was the right thing to do."
Just weeks after Krish and his wife took this leap, something happened…
Up to 5 million people from Hong Kong became eligible to come to live in the UK under a new rule the government set up, opening the visa route. "This was the largest planned migration to the UK from outside of Europe in at least a generation," Krish explained. "Historically, we hadn't done a great job at this in the past. I thought we could learn from that and do better this time.
"I thought, there is something we can do. I love working in collaboration. So, I gathered some friends and different charities together and I thought, what if we work with existing charities as a kind of Avengers Assemble moment where everyone brings the best they've got?
A different faith isn't a barrier for Christians to show love and compassion. They're still our neighbors.
"Then I tried to mobilize churches to be at the front of the queue to welcome Hong Kongers—help them with some of their practical needs. It's tough moving countries at the best of times. It's really tough moving continents in the middle of a pandemic, and especially when there's been a spike in race-based hate crime towards people of South Asian appearance. The church did a great job. I got to work with some fantastic people who are agile, excited and open to new ideas and working in new territories."
Through this collaboration Krish had conducted, they scaled one of the charities from working with about 50 churches to 500 churches all because they worked as a team. This incredible work gained the attention of the government, and in turn, they asked Krish to join the government task force to help with Hong Kong integration. Around the same time, things began to take a dramatic shift in Afghanistan. "Just as things were beginning to level off a little bit with the Hong Kong project, I got a call from the Home Office, which is our equivalent of the State Department in the U.S." Krish explained. "They said, 'we love the work you're doing, welcoming people from Hong Kong. We've got another problem. Can you help?'"
Krish said yes to the opportunity.
"As a Christian, it's part of my calling to be the best citizen I can be," said Krish. "I want to be a great neighbor to people in need. There are lots of examples in the Bible of people like Joseph, Esther and Daniel—people of faith who want to bless the government and the country they find themselves in. You don't have to agree with the politics of the people that are in charge to find common ground on how the Church can be a blessing to the nation."
When Krish was approached about providing support, it was a no-brainer for him to say yes because he values being a good neighbor, no matter what. "When they said, 'well, you know they're Muslim, right?' I said, 'a different faith isn't a barrier for Christians to show love and compassion. They're still our neighbors.'"
The government started to evacuate troops out of Afghanistan, and the people that were working with them, including translators, security guards, mechanics or drivers.
Phase One: Emergency Arrival
At first the problem was how to house everyone, but as the evacuation progressed more quickly, the need became different. The government started housing families in temporary accommodations in hostels and hotels, but as more and more people arrived every day, they needed wrap-around support. "We discovered families weren't getting some of the basic things a family might need arriving from a war zone into a new country," Krish explained. "We started to realize that no one had really asked the Afghans how they're doing, and that meant that when we went into one hotel where they had been staying for many weeks, we found children with bullet wounds in their legs no one had seen. So, one of the pastors drove them to the local walk-in clinic and presented these kids. The doctor and the nurse had tears rolling down their faces because they weren't used to seeing an 8-year-old and a 5-year-old with bullet wounds."
They also discovered that lots of the families only had whatever they were able to carry in bags onto the planes. This meant families with six kids didn't have basic resources like baby clothes, shoes, feeding equipment or a safe place for a baby to sleep. "So, we sourced all this stuff new from suppliers who wanted to get behind what we were doing," said Krish. "We also set up some Amazon Wish Lists. We have over 33,000 new items donated this way. We collect things at our warehouse and distribute it through churches that are wrapping around these hotels. Our priority is making sure mothers and children are safe. We think they're the most vulnerable group."
Phase Two: Next Step for Long Term Living
As the weather changes in the UK, new arrivals are in great need of winter clothes, and this comes with its own challenges that Krish believes the Church and global community can support. "There are some health and safety restrictions when you're supplying things for babies and mothers, so it gets really hard and we want to provide new where possible," Krish explained. "What they need are new clothes. Right now, the only way we're doing that is by getting financial donations and then we're purchasing it. It doesn't seem like an efficient way of working, so we're wondering if any of our GL S friends have connections with the clothing industry or the career industry who might be able to help us."
We're wondering if any of our GL S friends have connections with the clothing industry or the career industry who might be able to help us.
Another part of phase two involves trauma and therapeutic support. "We're partnering with charities like Save the Children—they've got experience working in war zones," Krish explained. "We're also working with banks because it's very difficult to get a bank account if you don't have a fixed address, and it's hard to get a job if you don't have a bank account. It's a vicious circle. We're also looking at piloting a skills-to-work program that we can run in in a couple of languages. Through the program we'd provide them things like interview skills, support on how to prevent prepare a resume, and how to go about applying for a job in a new country. We're also trying to find a way to empower women to know their rights and what's available to them—many of them don't know how to read and write, so we are trying to use WhatsApp and create a site using video and audio content to help them. There's so much going on, it's phenomenal!"
An incredible feat, Krish has pulled this together at great pace and scale. Three months ago, this program, which Krish calls, "Afghan Welcome", didn't exist at all! Now as they head into phase three of support, there are ways our global community, including The Global Leadership Summit audience can step in to support both in the UK as well as the United States.
Phase Three: Long Term Housing & Support
As housing becomes available, Afghan families are moved to other locations, but they could be moved anywhere in the UK. "We're only a small nation, but some of the places they're being moved to are quite remote and not very diverse," Krish explained. "One family we know is moving to a very rural part of Scotland, where they'll probably be the only non-white members of the population.
This is built into the DNA of what it means to be a Christian—to love your neighbor.
"But what's great about the Church is that we're everywhere! Someone from the government asked me which locations we could serve in the UK? I said, 'in every city in every town, in every village in the UK, there is a church full of people who are driven by their faith to show the love of God in compassionate service. We are everywhere. By the way, this is something we've been doing for 2,000 years. This is built into the DNA of what it means to be a Christian—to love your neighbor. It's one of our two most important commandments!'
"It was lovely to be able to boast about the Church and say we're here even in this rural part of Scotland where this new family has arrived. There is a church there that's opened its doors and arms to this family, wrapping around them with support."
God's Perfect Timing
Over the last few months, the UK has received approximately 13,000 Afghan people, predominantly families with lots of children. The United States also taken in approximately 50,000. There's an opportunity for the Church to build bridges. "We might see all the obstacles to make friends and connect with people, but where there's an openness, we can build bridges," said Krish. "I look back and think, it was very gracious of God to provide these things just when I needed it and that I was in a position to be useful with my skills. We're available, and now I think I am working to my capacity. It's a very challenging situation, yet I'm feeling in my sweet spot because I'm using all my skills…like all of them! And I'm working with great friends and partners, and it's been a real roller coaster, but I'm grateful for the opportunity."
Your Opportunity to Build Bridges and Support Afghan Refugees
While Krish's work is primarily in the UK, he shares ways his friends in the United States can get involved locally as well. "I think there are and there will be a myriad of opportunities for our American friends to serve the Afghan people who very bravely stepped up and served our troops when they were in need. But unlike your troops, they don't get to go home. They left behind everything they knew. To empathize with them, connect with them and find ways of blessing them is how you can serve."
Where there's an openness, we can build bridges.
In the United States, Krish recommends organizations like World Relief. "I've got good friends at work at World Relief," said Krish. "They are a Christian resettlement charity that I'm in close touch with. They're doing everything from on the ground support and help to advocacy within the halls of power in Washington. They're great people and we've collaborated a lot."
Attention: Calling Manufacturers, Potential Business Partners and Creatives
While talking to Krish about how we can support his work, he also called out ways manufacturers, businesses and creatives can get involved. Perhaps this is you!
"I believe in global partnership," said Krish. "I'm always up for swapping ideas. There's probably good stuff that you've got going on where you are. We could learn from you about global supply chains. There may be manufacturers, or business partnerships we can explore so that we don't have to go into a Walmart and buy everything they've got. We could build some corporate relationships so that we can get things at cost or free. This is a moment of opportunity.
"I know there are creatives out there too," said Krish. "And a lot of the ways in which things change are through giving people an empathetic connection through storytelling, for example. We're pretty dependent on friends and volunteers. Who can help us make great video content? Or provide great story telling or journalism? If there are people there that that would like to get involved in that way, that would be a fantastic collaboration opportunity!"
The Church is at the Front Lines
"What's fascinating for me is that the Church has been at the front of the queue to welcome people from Hong Kong and Afghanistan," said Krish. "And though we don't necessarily share Christian faith, compassion is the bridge. We can make friends and serve each other irrespective of our faith backgrounds. It's a really wonderful opportunity for us to show the grace of God."
To learn more about how you can connect with Dr. Krish Kandiah and this important work, go to afghanwelcome.org.